Subscriptions
View your current subscription plan
Click the profile icon

and select Profile & Billing.
| | |
| --- | --- |
| | You can also click on a Get PowerUps link in the left navigation menu to access Subscriptions. |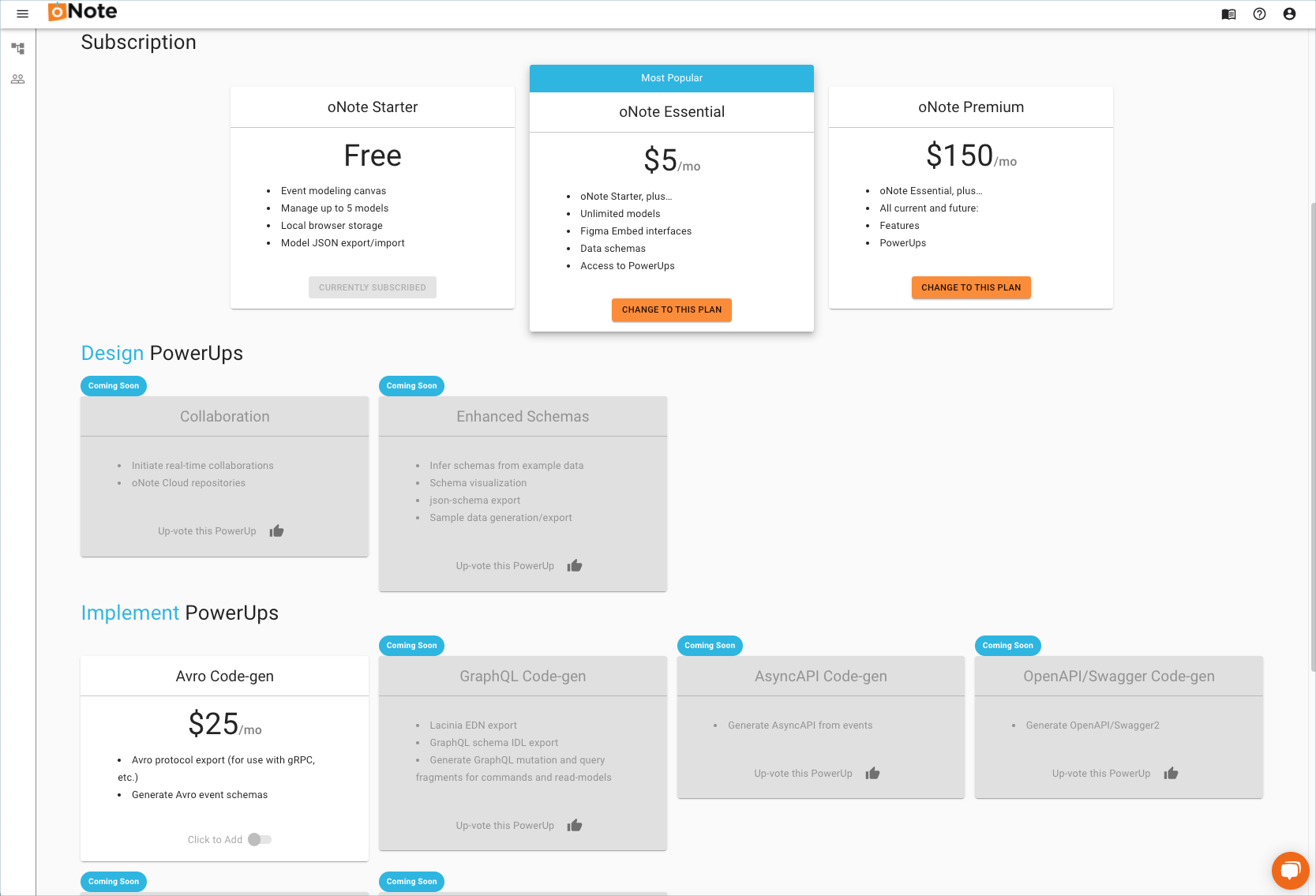 Available subscription plans and PowerUp features
Change your current subscription plan
Click the profile icon and select Profile & Billing  Change Subscription.

Click Change to this plan for the plan that you want to subscribe to.

If you have not done so already, set a payment method.

If applicable, enter a Promo Code.

Click Update subscription. Your subscription takes effect immediately.
Add a PowerUp feature to your Essential plan
If you are on the Essential plan, you can add only the PowerUp features that you need. PowerUps are not available for the Starter plan. All PowerUps come with the Premium plan.
| | |
| --- | --- |
| | Only the Avro code generation PowerUp is available at this time. Be sure to click the Upvote icon for the features you'd like to have developed sooner in the roadmap queue. |
Click a Get PowerUps link in the navigation menu.

Toggle the Click to Add button.

Implement Avro code generation PowerUp

Enter your payment information and a promo code if applicable.

Click Set payment method and continue.

Review the Subscription change summary and click Update subscription.
Remove a PowerUp feature from your Essential plan
Click the relevant Get PowerUps menu link or the Profile & Billing icon .

Toggle the Add button to off in the PowerUp feature panel.

In the Subscription change summary panel, the item to remove and the amount to credit your account is displayed.

Click Update subscription.