Start and end a collaboration session on an event model
Start and end a collaboration session. Only the user who started a collaboration can end the session.
Start a collaboration session
Open the event model you want to collaborate on with your team.

From the left navigation menu, click Design  Start a Collaboration.

The Collaborations section underneath the Event Models displays the model in a collaboration session. The Current Collaboration pane opens at the bottom of the navigation menu.

In the Current Collaboration pane, click Invite Participants.

In the Invite Participants dialog, click Copy URL to clipboard.

You'll see /collaborations and /join, along with a UUID within the URL path that looks similar to this:

Paste the URL invitation in a Slack or other chat channel, or an email to those who you want to collaborate with on the model.

Any participant who has been invited and joined a session can also invite more participants.

| | |
| --- | --- |
| | If participants are signed in to the session in different browsers or machines, such as both Chrome and Firefox, their name and status appears for each browser session. |

Make adjustments to the model. Other participants can view your changes, and you can view theirs.
End a collaboration session
When your team has finished collaborating on a model, end the collaboration session.
Those who joined a session can opt to leave the collaboration at any time before it has been ended by the host who started the session. A message indicates when a participant has left the collaboration session. Any collaboration sessions you haven't ended yet are listed under the Event Models in the Collaborations list.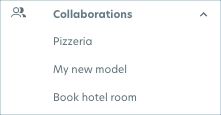 Active collaboration sessions
Click the model in the Collaborations list, if it isn't already the current collaboration.

In the Current Collaboration panel, click End this Collaboration.

End collaboration session
Any subsequent sessions for a model require sending another invitation with its collaboration session URL.